White Stallion Ranch - Horse of the Month
The Horse of the Month is nominated by our guests who have a special place in their heart for one of our horses.
All are invited to vote –  and you may place your vote in the Ballot Box at the Front Desk or e-mail us at info@whitestallion.com.
The winning horse will receive a therapeutic massage and chiropractic adjustment, a bath and a "Carrot Cake" treat of grain and carrots.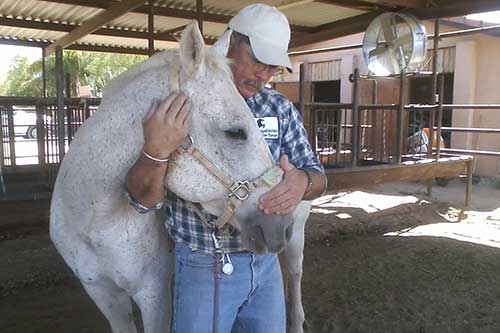 August 2020 – Derringer is a grey grade quarter horse gelding with some dark scars on his face. He came to us in 2006 and knew nothing about being a dude horse. He enrolled in the training program and took his studies very seriously. He passed the test with flying colors and has been a very popular horse with our guests ever since.  He stands 14 HH and weighs about 900 lbs. His votes included comments about being "nice and obedient" and even one about being "a bit of a daredevil".  He is popular with all types of riders.
July 2020 – Titan has a fantastic reputation for Team Penning and Cattle Sorting. He is quick and responsive as well as willing to please, based on his background as a rodeo horse, he is comfortable working cattle under any circumstances. He is very popular with our intermediate and advanced riders.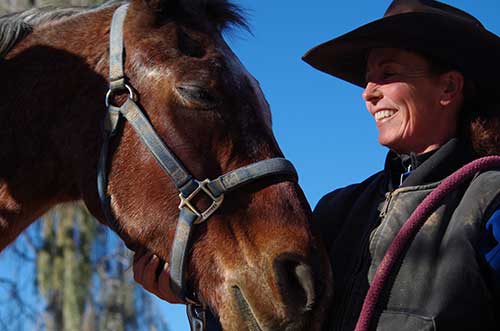 June 2020 – Prescott – Among the many good qualities listed on his ballots are "good listener" "very responsive" and "gentle." Prescott is very popular with our intermediate and advanced riders.
May 2020 – Thunder is a black and white Pinto who came to us with his brother Lightning from the mid-west, where they were ridden and driven as a team. He has beautiful blue eyes, moves out well, is very responsive and quite popular with our advanced riders. He weighs about 1,150lbs and stands 15.2 HH.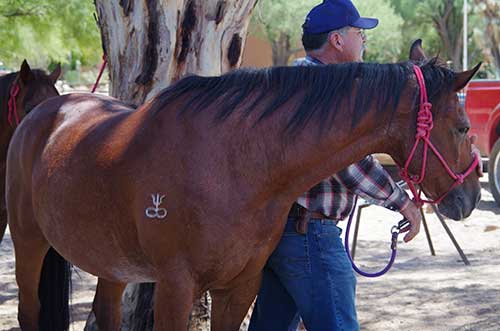 April 2020 – Laredo – This month was an outstanding case of Ballot Box stuffing for the win. Laredo is a bay gelding with a freeze brand on his right shoulder. He came to us with the string from Rancho de la Osa that Russell and Laura bought. He is a grade Quarter horse, stands 15HH and weighs about 1200lb.s. His champion ballot box stuffer's name is Francesca who appears to have spent every waking moment voting.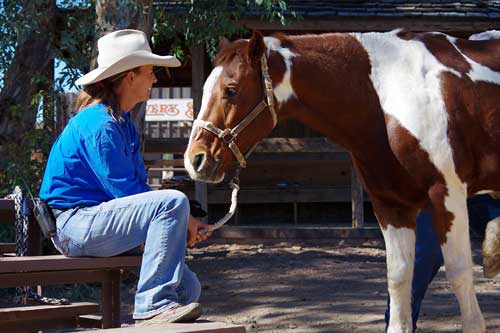 March 2020 – Scooter – One of his votes was "He made my kid Happy during Covid -19, Thank You" enough said! Scooter is a special Favorite with the kids because "he is funny and a good listener." He's a sorrel and white paint with a blaze and 4 white stockings. He weighs about 1,000lb.s and stands 14.2 HH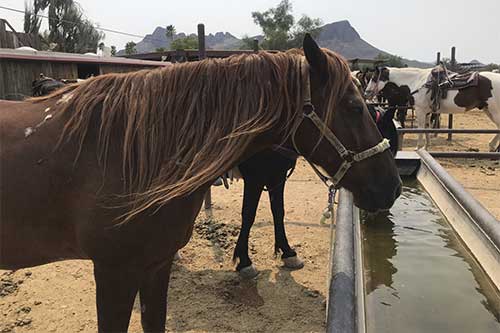 February 2020 – Federale takes advice from no one – he sets his own pace and sticks to it, and he's usually right.
Described by a guest as "slow, but silently strong of character, and a joy to ride," he was caught smuggling drugs across the Mexican Border and came to us on a "work release" program. He is a sorrel gelding, 14.3 HH and weighs about 1,000 lb.s.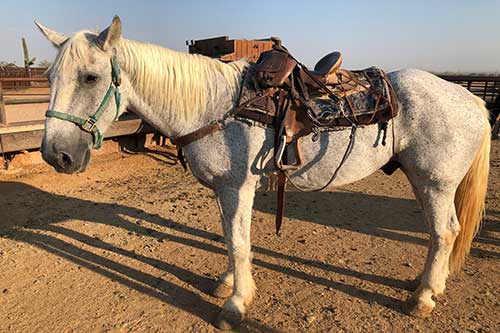 January 2020 – Mesa is a very gentle flea-bitten grey gelding with a blaze. We bought him from our horse trader who said he was lame when he found him, so he called the farrier and they found 2 large rocks buried in his hoof. He has been sound ever since and he's a huge favorite with many of our first-time riders. He weighs about 1,000 pounds and stands 16 HH.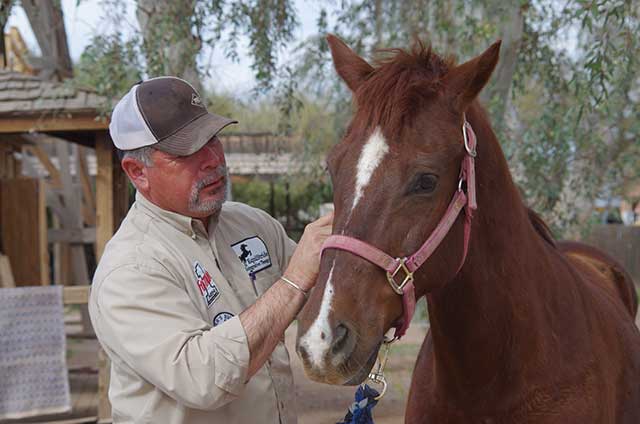 December 2019 –  We bought Ringo from our horse trader, he was originally a Mexican Ranch Horse. He is a sorrel gelding, with a star and a snip weighs 1,000 lbs. &  stands at 15 hands. He's forward going with a great work ethic and loves his job.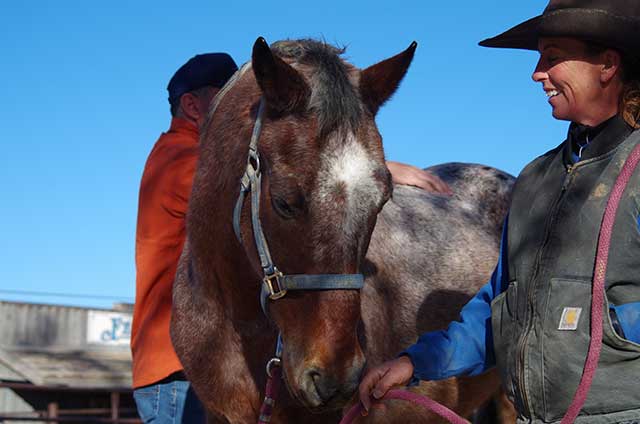 November 2019 – Prescott is an Appaloosa. he stands 15.2 hands and weighs about 1,000 lbs. He is extremely gentle and calm and loves to be groomed.  He's also very responsive and sensitive to his rider's cues.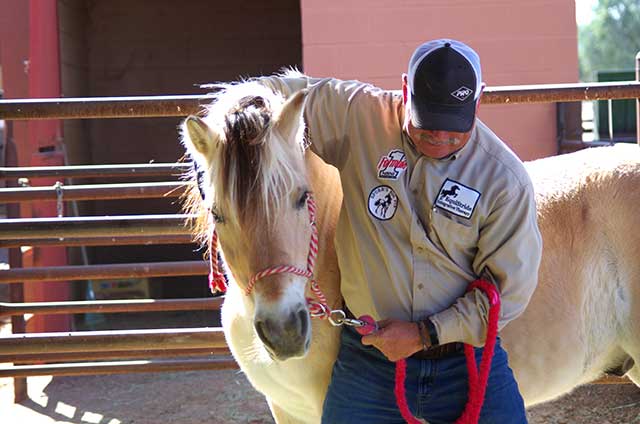 October 2019 – Crockett came from Vermont. He had lost his job as a summer lead line pony due to a business closure and was looking to move out West and fulfill his dreams of working on a ranch. He came west with his 3 brothers and his Mom. Two of his brothers work at Tombstone Monument Ranch, but they keep in touch.
Crockett is a light dun gelding Norwegian Fjord. He stands 14.1 hands and weighs about 1,000 lb.s, with a black and white mane and a dorsal stripe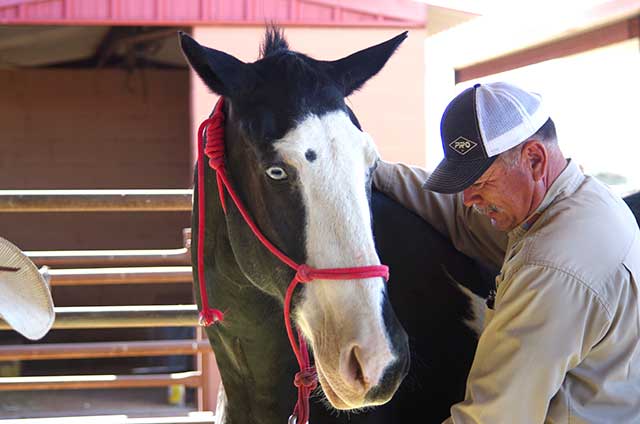 September 2019 – Thunder is a black and white gelding Pinto with two absolutely beautiful blue eyes (we should have named him Frank Sinatra…)
He stands 15.2 hands and weighs 1,150 lbs. He and his brother Lightning came to us from the Midwest where they were driven as a team and ridden.
They're very easy to spot out in the big corrals because of their distinctive markings.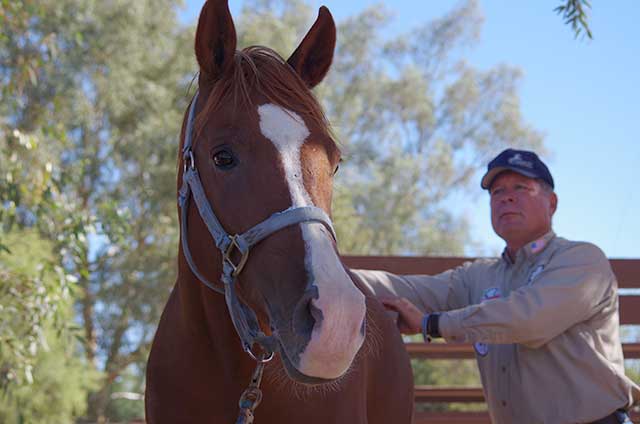 August 2019 – Moby is a Sorrel gelding with a blaze – he's registered as an American Arabian. He stands 14.3 hands, weighs  1,000 lbs and he's is huge favorite with the ladies…
 This probably explains why –  when Laura went to look at him, the gal that was selling him had trained him when he was 3 years old. Her health had been steadily declining for several years and she could no longer ride. When we bought Moby he was 10 years old and he thought he was a dog, not a horse. As he went through his ranch horse boot camp training he remembered a lot of his training and he is now a guest favorite.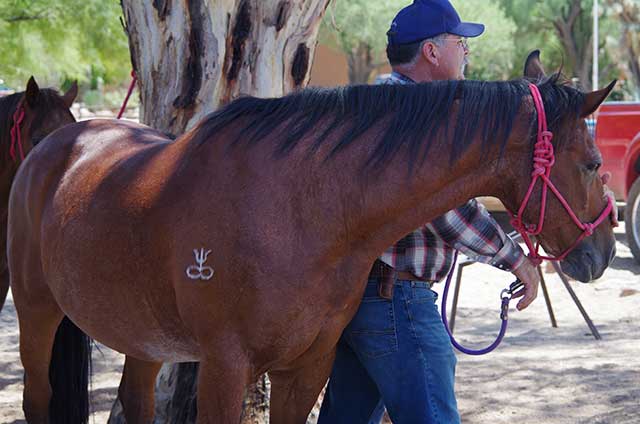 July 2019 – We bought Laredo from a Ranch on the Mexican border which was closing and needed to sell their entire string.
Originally, Russell and Laura went to the Ranch to help them  price their horses to sell online. They bought Laredo and few geldings, then went back and purchased the rest of the herd.
Laredo is a Bay grade quarter horse with a freeze brand on his right shoulder.  He stands 15 hands and weighs about 1200 lb.s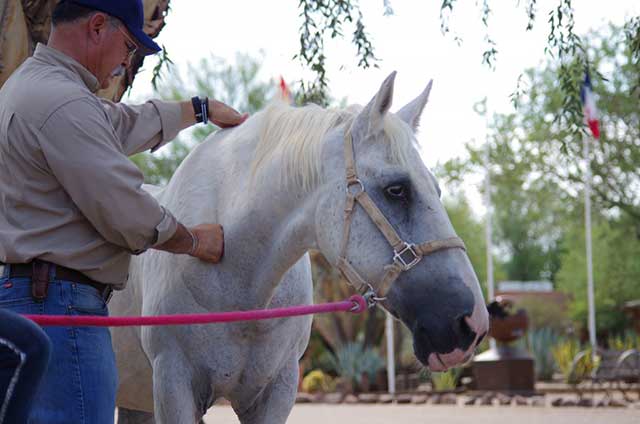 June 2019 – Grey Cloud was a privately owned pleasure horse before he came to the Ranch
He was very sweet as a family horse but he had much to learn about working with guests and getting along in the herd.
He was enrolled in "dude ranch training camp" to learn how to fit in with everyone.
He's actually a grey and white paint, and stands 15.1 hands and weighs 1150 lbs
May 2019 – Hombre  was originally from Mexico. He is one of our all time best children's horses, and has been with the Ranch for most of his career.
One day a cowboy was using him to round up cattle next door, and when he finished he rode over and asked if we would buy his horse, and we did.
Hombre is 15.1 hands and weighs 1,000 lb.s He is a grade quarter horse, and a tri-colour  paint, though he seem mostly brown and white  he has black mane behind his ears.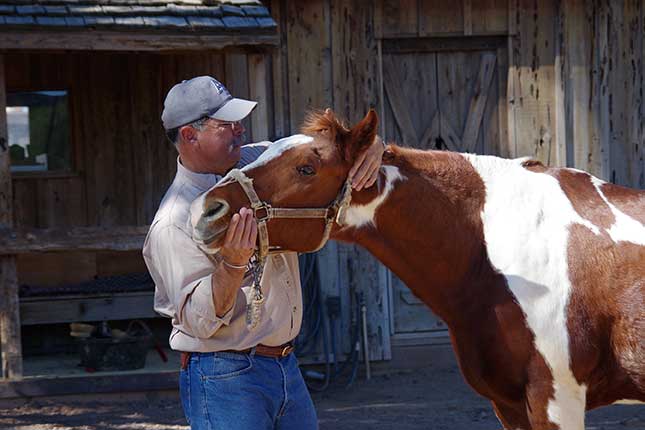 April 2019 – Scooter frequently wins Horse of the Month because he's very popular with our beginner and intermediate riders.
He is a sorrel and white paint gelding, with a blaze and 4 white stockings.He has the friendliest personality and always seems so happy to see you.
Scooter stands 14.2 hands and weighs about 1,000 lbs.He was raised in Idaho to be a rodeo horse, but by age 3, he just didn't have the size or speed to compete at a high level, so his owner brought him to Tucson and sold him to us.