White Stallion Ranch Activities
Choose from a wide selection of challenging outdoor activities and state-of-the-art facilities for recreation and relaxing at White Stallion Ranch. The pastimes to enjoy here go well beyond the riding program, with many amenities and activities to entertain our non-riding guests.  You may want to extend your vacation to take advantage of all the fun! Rock Climbing, Shooting, Team Cattle Penning and Fat Tire E-Bikes are available at an additional charge for stays of less than 4 nights.
Introducing Our New Outdoor Adventure  Package
We're experimenting with some great new outdoor activities, and you're invited to participate. Now you can add Shooting, Rock Climbing, Team Cattle Sorting and Fat Tire E-bikes to your ranch vacation for No Additional Charge!
Your stay of 4 nights or longer qualifies for our new Adventure Package ~ unless you book during the Holidays or Spring Break when your length of stay increases to 6 nights to qualify.
Evening Entertainment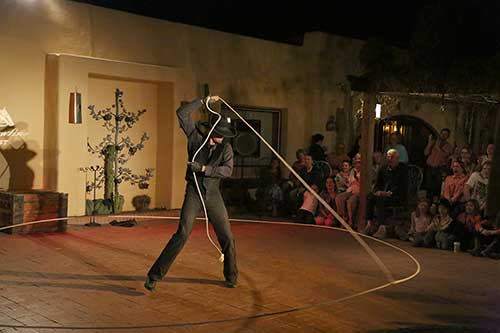 You'll enjoy amazing performances and educational events most evenings after dinner.
Our schedule includes: a moonlight bonfire with a cowboy singer, an astronomy show with large telescopes, line dancing lessons, nature and animal programs, watercolor classes with our resident artist Ute Vaughn and Loop Rawlins' Wild West Show of Trick Roping, Whip Cracking & Gun Spinning.
Weekly Ranch Rodeo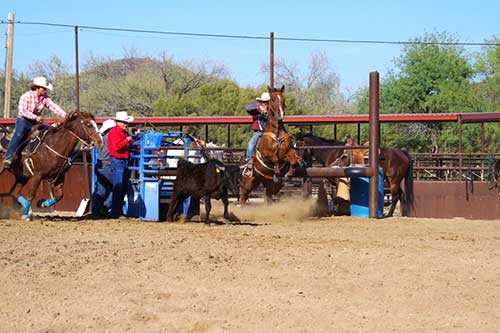 Once a week the True family and friends present an exhibition rodeo in the large arena. Russell narrates,  explaining the objective of each event, noting fun facts and illustrating the history of rodeo.  Team Roping, Barrel Racing, Break-a-Way Roping and Bulldogging (or Chute Dogging) are most often presented. The Rodeo opens with the Lee Greenwood song "I'm Proud To Be An American" and a dramatic horseback presentation of the American flag, as well as a mounted honor guard presenting flags for the countries of each of our foreign guests.