White Stallion Ranch Riding
White Stallion Ranch owns one of the largest private herds of horses in Arizona. Our extensive riding program accommodates the experienced horse owner, the "first-time" rider and all riders in between.
We offer a wide choice of rides every day except SUNDAY, which is always the horses' day off.
Children 8 years and older may qualify for our fast rides, mountain rides and all day rides. Children between 5 and 8 years will enjoy our slow rides. For children under 5 we will schedule a short lead around horseback with an accompanying parent.
Fast Rides

For those who like a little excitement, our fast rides are a great way to get the adrenaline pumping. Loping through the desert on horseback you'll begin to believe that you really should have been born a cowboy. Intermittent walking and trotting allows you to catch your breath and enjoy the scenery. Experienced riders love these rides and we pride ourselves on helping beginners gain the skills necessary to participate as well. With our wide variety of trails, fast rides are always an adventure. Our fast rides require that you be 8 years or older and have passed a lope test in our arena. This test is conducted for your safety as well as the riders around you.
Slow Rides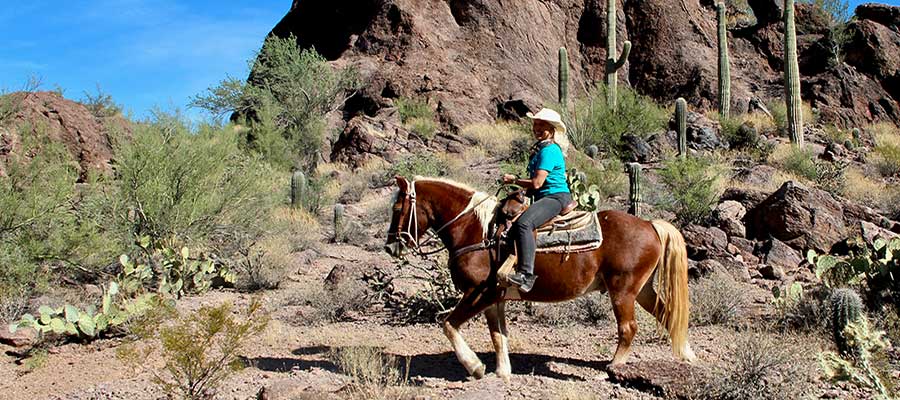 The perfect introduction to riding at White Stallion and for those who prefer to soak up the sun and scenery…
This is the best way to see the desert flora and fauna and experience the ecosystem of the Sonoran desert. You'll ride all week and never use the same trail twice on our walking rides. Our wranglers use walking rides as an opportunity to share their knowledge of the desert and our horses.
We ask that every guest complete a slow ride to become better acquainted with your horse and the trails before moving on to more strenuous riding activities. Children 5 and older may participate in slow rides.
Mountain Rides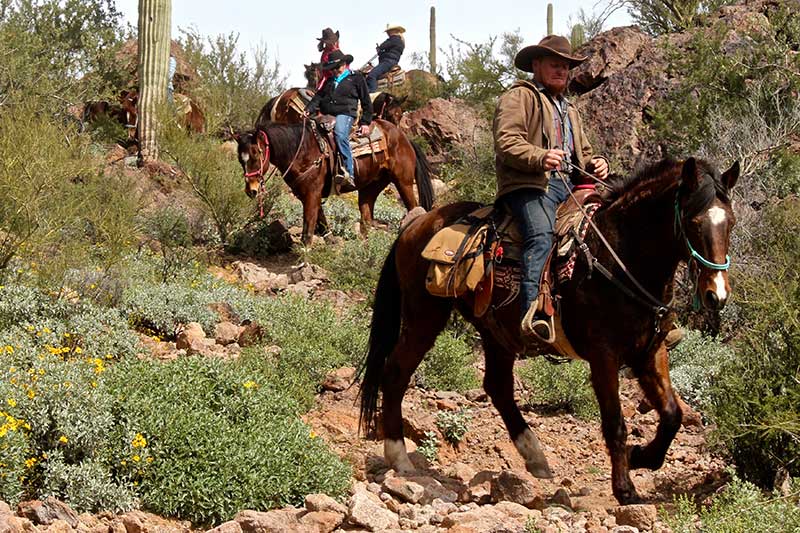 What better way to explore the rugged Tucson Mountains than by horseback? Exciting and beautiful, our steep, rocky trails take you to the top of our surrounding mountains where the panoramic views are breathtaking. Ride through Movie Pass surrounded by Saguaros, if it looks familiar, that's because Hollywood has been filming here for over 50 years.
Choose from three different mountain rides to reach the summit, where you'll take in the panoramic view of our 3,000 acre ranch and the miles of farmland beyond. The trails can be steep and rocky, but out horses are surefooted and adept at picking their way through the rocks. Rides can be slow ot fast to get to the mountain, with walking once we reach the pass. Mountain rides are available to children 8 years and older.
Team Penning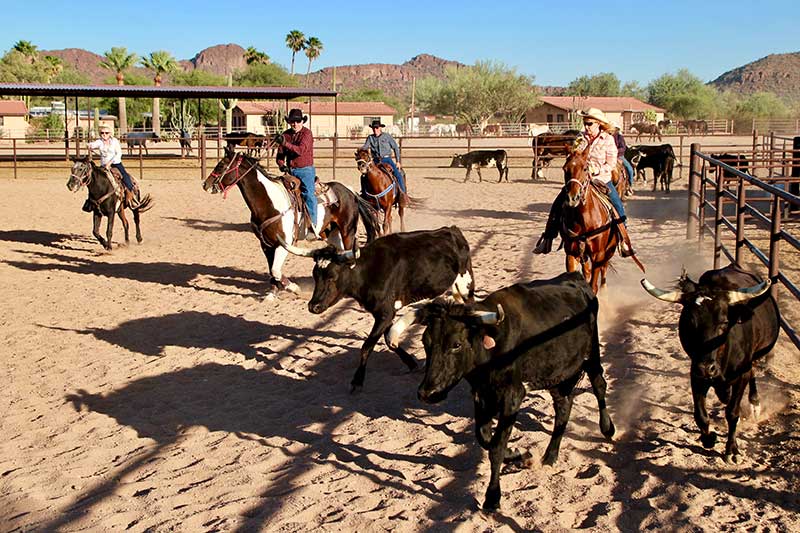 This guest favorite is as much fun as you can have on the back of a horse, it is a total adrenaline rush!
You and three teammates ride "Bonanza" style into a herd of cattle in our rodeo arena and separate out three to move to a pen. To up the stakes, this is a timed event, but you are welcome to ride at whatever speed you find most comfortable. It's all about teamwork, so our wranglers will give you tips and instructions. Team Penning lasts about one hour, and each team gets three rounds to better their time. It's exciting and challenging, and you will rely on everything you've learned about riding – when you finish, you'll feel like a real cowboy/cowgirl!
If you don't have a team, don't worry, we will match you with others, and our wranglers are always happy to ride! Team Penning is classified as a fast ride and only available to children 8 years old and over.
Wine & Cheese Rides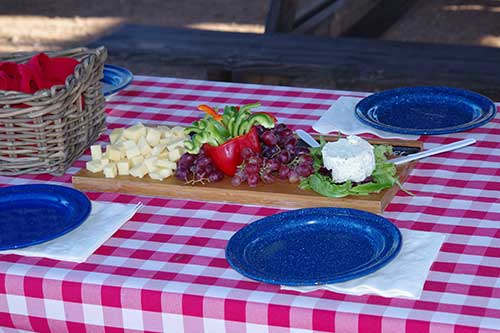 Enjoy a scenic walking ride to a secluded corner of the ranch, surrounded by mountains and stunning scenery. Here, you'll be presented with a unique selection of wines and enjoy assorted cheeses, crackers and bread. Your horse waits patiently only a stone's throw away while you relax and enjoy the company of your fellow riders.
Guests over 21 may partake, available seasonally
Beer & Cheetos Rides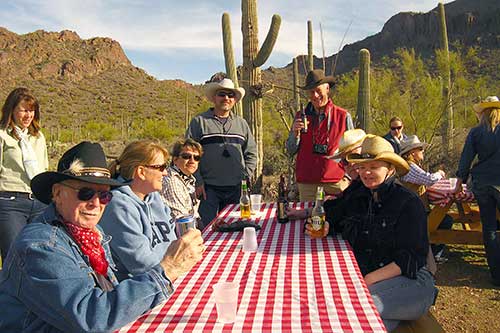 This is the perfect way to get to know your fellow guests in a relaxed and jovial atmosphere! We've chosen a very special spot in the desert, added picnic tables for you and a picket line for your horse and "Voila!" A fun way to spend a lovely afternoon with friends old and new… You'll unwind with an ice cold beer and an assortment of crispy, orange empty calorie snacks served up by your wranglers.
Guests 21 and older may partake, available seasonally
Hay Rides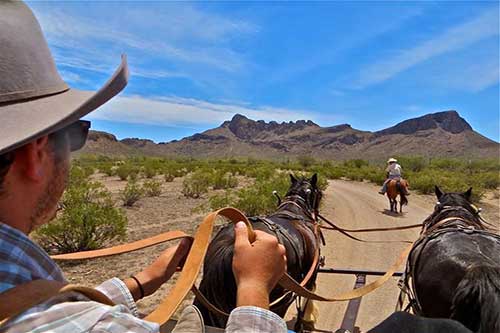 Climb aboard our hay wagon, decked out with hay bales for seats and powered by a magnificent team of draft horses. You'll be transported to lunch the old fashioned way, through the desert to our cookout site with Panther Peak as your backdrop. Enjoy "All American" hamburgers and hotdogs cooked over a fragrant Mesquite fire with all the trimmings – Delicious vegetarian options are always available. Russell presents a brief but very entertaining overview of the ranch – past and present – while you soak up the sunshine and fresh desert air.
In the summer, perfectly timed for our brilliant Arizona sunsets, we offer a Monsoon Mule hay wagon ride complete with Moscow Mule adult beverages and Prickly Pear Lemonade for the kids. You'll be amazed by the colors of the desert as it glows in shades of red and orange.
* Of course, our Hay wagon trips are weather permitting!