White Stallion Ranch Vacation Specials
Summer Bed & Board (3 Meals Daily)
For Stays Through August 31, 2019
This special rate includes: lodging, 3 meals daily, pool, hot tub, fitness center, sauna, tennis courts, sport court, movie theater, game room and nightly entertainment. Ranch Activities may be added on an a la carte basis.
Single (per night – single occupancy) – $179
Standard Double (per night – double occupancy) – $211
Deluxe Queen Twin (per night – double occupancy) – $218
Deluxe King Twin (per night – double occupancy) – $228
Family Suite (per night – double occupancy) – $244
Deluxe Suite (per night – double occupancy) – $304
Extra Person (per night – after two occupants) – $32
Rates are subject to 15% service charge and taxes.

Cactus Cowgirls
CACTUS COWGIRLS RIDE AGAIN!
Four Dates to Choose From:
Sunday, January 19th – Sunday, January 26, 2020
Saturday, February 22th – Friday,February 28, 2020
Tuesday, April 21, 2020 – Sunday, April 26, 2020
Thursday, August 29th – Friday, September 6, 2019
For details follow the arrow below:

Current Ranch Specials
Our ranch adventure vacations offer lodging, meals, amenities and a vast array of ranch activities—from horseback riding to hiking, shooting, rock climbing, fat tire E-bikes and evening entertainment.

White Stallion Ranch - Workshops & Clinics
The Unbridled Retreat is devoted to reconnecting to your courageous self – with the help of horses, nature and like-minded women. Rediscover joy with equine gestalt coaching, then ride through the majestic with newfound confidence and clarity that will transfer to your daily life. 
Ideal for women in "mid-life awakening" who are ready to break out of what's holding them back, have fun, build self-confidence and identify what they want in life. Devon Combs, "The Cowgirl of the Wellness Industry" and an expert in Gestalt Coaching will guide you in your healing encounters with horses.
$2,695 (double occupancy)
$2,995 (single occupancy)
payment plan available
Registration Includes: all meals, lodging for 3 nights/4 days, Equine Gestalt Group Coaching, horseback riding, ranch activities, and Vision Board Workshop
For more information visit
www.beyondthearena.com/retreats/unbridled-arizona   OR call Devon at 303.547.0848
The White Stallion Ranch Animal Communication Dream Retreat
"The Secret and Silent Language of Animals"
Cost is $2,695 for a single and $2,485 per person in a double.  Price includes lodging, meals, workshop, riding, ranch activities, airport transfers from Tucson, tax and service charge. 
Doctor Doolittle isn't simply a Disney production and the ability to talk to the animals isn't just a childhood dream. It is a gift bestowed upon us all. The animals are always "talking" and the Animal Communication Dream Retreat is your chance to learn this silent and ultimately secret language ~ a language of love.
Over the course of this week-long workshop you will join Anna at the historic and picturesque White Stallion Ranch to explore the many aspects, benefits, roles, and the true power of animal communication.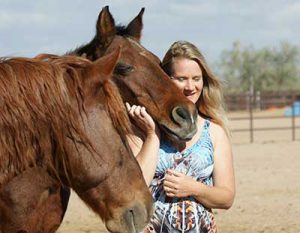 Your guide to help you stretch your limits through this incredible journey of self-discovery is none other than internationally renowned natural horsewoman, equine linguist, animal communicator, Holy-Fire Reiki Master, and founder of Reach Out to Horses, Anna Twinney.
For almost 2 decades Anna has helped thousands of animals of all species and their human companions. She has been sought out by zoos, sanctuaries, rescues, and people from all walks of life, including celebrity horsemen and women, the medical and veterinarian communities alike. Anna became known for the many hats she would wear and her ability to connect with all species as a trustworthy linguist, behaviorist, medical intuitive, healer, mediator, life and business coach, minister and medium. With close to 10,000 consultations and over 200 hours of educational materials, the Ultimate Animal Communication Mentorship Course was launched, and with it, the Anna Twinney Academy of Animal Linguistics™.
Whether it be through private sessions, live and online classes, or her Animal Communication Mentorship program, her message of giving a voice to the voiceless has been heard on almost every continent. Anna's practice and her classes are founded in her ability to and the importance of relating specific, verifiable, and extremely helpful information.
"We did a communication, it was amazing what she came up with!"
Frank Bell, Horse Whisperer
Anna will show you how to thread your own gifts into this new talent, overcome personal and natural obstacles, and bring in your past to nurture your own special gifts. You will also discover ways to enhance your own intuition, to make your connection clearer, and where personal memories and imagination fit into animal communication.
Through lectures, stories, advice, exploration of pendulums, essential oils, muscle testing, sway-testing, her proprietary, life-changing "Love Lessons", a live session and potentially her unique equine life-coaching, Anna will show you how to be an accurate and reliable communicator. Whether this is the beginning of a new journey, you are seeking answers to questions having reached a roadblock, or you are professional looking to take your skills to the next level, with Anna's natural style of teaching you will see how possible the impossible really is.
By morning you discover a new paradigm as you create a new "you" and a new "normal" by afternoon you may choose to relax by the pool, join one of the many extraordinary dessert rides or participate in the ranch activities.
 "She would tell people things about their animals, that she has no way of knowing"   – Laura True, White Stallion Ranch
Animal Communication isn't just talking with your animals, it is the art of knowing how to settle a skeptical mind, put an animal at ease, respect these loyal companions, build trust, reach an animal on the other side, and more. It is about creating the connection, giving a voice, and holding a conversation. It is the art of establishing the character and the needs of the animal, reading between the lines, creating a natural flow, and thus, a true conversation.
Begin your journey, hear the voices of your animals, and take it home to create a whole new, deeper relationship with all your companions.
Further Bio:
In 1997 Anna followed the call of the horses and was eventually recognized as one of the top 5% in her field as a natural horsewoman. She became the first head instructor and board member of the Monty Roberts International Learning Center, opening doors for thousands of national and international students to the world of natural horsemanship. Her love and connection to the animal kingdom inspired Anna to expand her work from Natural Horsemanship to animal communication with all species. Now, along with her work as an Animal Communicator, her company, Reach Out to Horses, leads the horse whispering movement into the next generation incorporating telepathy and energy work as integral parts of her methodology.
Anna has authored two books and is a regular contributor to a variety of national and international magazines, publications, and websites including Equine Wellness, Holistic Horse and Natural Horse, just to name a few.
She has launched over a dozen educational programs including Animal Communication: The Journey Within and the original Reiki: Energy Healing for Horses. Her work can be seen on international TV, video streaming services, and on her own YouTube channel – youtube.com/ReachOutToHorses. Anna has been featured on U.S. and international television, radio and internet programs, including Chinese State TV, FEI TV, Martha Stewart's Living, the BBC fly on the wall documentary Living in the Sun and the French TV Program, Echappées Belles. 
Call to book this workshop any time between March 10th and June 5th, 2020
520 297 0252
custom workshop sessions can be created for any dates 
Do you want to make a change in your life or find a new balance?
Can you imagine having fun and at the same time taking a quantum leap in your life?
Going through a process which combines ranch activities with horses and powerful Life Coaching techniques, you will be guided to take your Leadership to the next level. Find the perfect harmony to create the best in your life or business and create your future connected with your inner-self.
Learn and practice the 8 keys to the "Ride your Life" methodology
Reserve your spot today at info@mysuncoach.com ~
Space is limited to 10 people ~ no horse experience necessary
Investment:
Formula All Inclusive* $2,890 per person, for 8 days, 7 nights double occupancy or $3,040 single – (taxes and service charge are INCLUDED)
*Includes: lodging, meals, riding, a horse to work & bond with for the duration of your stay, the "Ride your Life" program studies, learning material, ranch activities, airport transfers.
~ SAVE $200 BY BOOKING WITHIN DECEMBER 31ST 2019 ~
 Contact Jerry at info@mysuncoach.com
Jerry Spoto is professional Life/Executive Coach with ICF credential and a Licensed Trainer of Neuro Linguistic Programming®.
The "Ride your Life" methodology he created is the ONLY PROGRAM IN THE WORLD which provides Life Coaching on a horse and in December 2016 it was published in Choice, the most prestigious magazine of professional coaching in the USA   
Come experience on your horse the "Ride your Life Path" – the "unique" coaching ON horses process.